Munda Biddi Explorer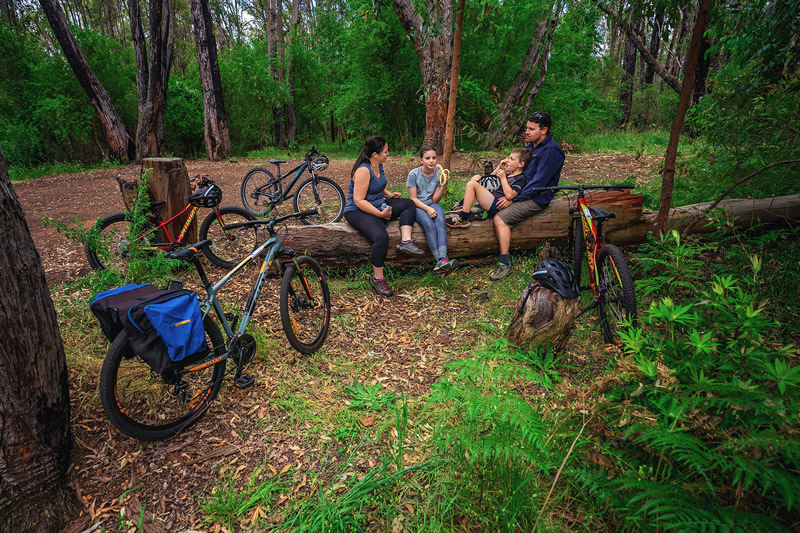 Duration: 1 Days (approx.)
Location: Dwellingup, WA
Product code: PLDET4
Spend the day riding a section of the world-renowned Munda Biddi Trail, translating to 'path through the forest' in the Indigenous Noongar language. After getting fitted out with a mountain bike and helmet, Dwellingup Adventures transport your group and bikes to the beginning of the journey. Spend the rest of the day riding through the majestic Jarrah forest along single track and fire trails, with a bridge leading you across the mighty Murray River, giving you impressive views of Baden Powell Water Spout. Journey finishes at Dwellingup townsite, where there is plenty more to explore on foot! Choose from 17km (Nanga Mill to Town) or 35km (Dawn Creek rd to Town via Bidjar Ngoulin Hut).
Operates daily.
Start: 8.30am. Finishes: 4.00pm
Self-guided
Ages 10+ recommended.
Medium fitness level required.
Some mountain bike experience advised.
Min: 1
Max: 20
Tour includes transfers, Tier 1 mountain bike/s, helmet/s, map and a repair kit.
Note: More detailed Munda Biddi Trail maps can be purchased at Dwellingup Adventures trails shop.
Option to upgrade bikes and/or swap to North section of Munda Biddi Trail.
What To Bring
Comfortable bike riding wear is required. Closed in footwear is recommended. A small day pack should be carried for the day tour with some rain wear, your lunch items and personal items.
Safety
Mobile reception is unreliable although you may get pockets of reception depending on your phone and provider.
If you require an emergency phone, there are two land lines in the park. Entry Ranger Station: if occupied rangers
have a phone. Nanga Bush Camp: a phone box close to the manager's residence is available for emergency and local calls only at no cost. Both locations are on your map. Dwellingup Adventures is not a medical emergency response agency, and all emergency calls should be made to 000 or 112 if no mobile reception. As best note or describe your location.
Emergency services will typically try to get to you. Dwellingup Adventures may be able to assist emergency staff so call 95381127 as well. For a non-medical emergency call Dwellingup Adventures for assistance.
Serious Mechanical or Damage Fault
The mountain bikes are serviced and supplied in good order. However, the track is rough in parts and riding the
Munda Biddi is not the same as ducking to the local shop on your pushbike. Ride carefully for your own safety and be conscious that you will have extra weight and the bikes performance characteristics will have changed. Ride slowly
downhill always under control. If in doubt walk the bike. Change gears gently and 'feel' the mechanics of the bike change. You will be some distance from assistance. If you have a fall and if the bike is damaged and un ridable you should try to contact Dwellingup Adventures and we will assist.