Paddle 'n' Picnic Tour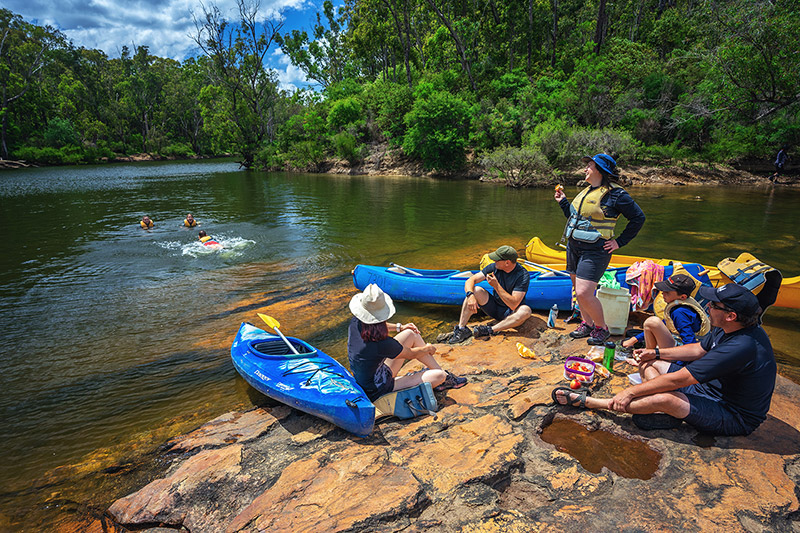 Duration: 1 Days (approx.)
Location: Dwellingup, WA
Product code: PKPJQU
Explore the tranquility and beauty of the Murray River on a self-guided Paddle 'n' Picnic tour. Meander down the Murray River at your own pace, which features long pools, fast-moving channels and a couple of small rapids along its forest-lined riverbanks. No need to worry about any logistics as Dwellingup Adventures do all the organizing for you. Meet at Dwellingup Adventures Tours Desk, located at the award-winning Dwellingup Trails and Visitors Centre with the lovely Waypoints Café. From here you will get fitted out with your safety equipment and head to the start of the canoe experience, following the guide in your own vehicle. Leave your vehicle at the finish point and let Dwellingup Adventures transport you to the start, stopping along the way to point out river features. Take your time paddling downstream stopping along the way for a picnic, flora and fauna spotting and a relaxing swim (depending on season) before paddling to the finish point at Dwaarlindjirraap (Baden Powell) where you rendezvous with Dwellingup Adventures and your car.
Operates daily.
Start: 10.30am. Finish: 3.00pm
Self-guided
Ages 4+ recommended
Minimal fitness level required.
Min: 1
Max: 20
Tour includes transfers, canoe/s, paddles, and pfds.
Note: This tour is dependent upon natural river levels, usually September to May is suitable.
Note: Lane Poole Reserve entry fees are not included in the tour cost.
The Murray River and Baden Powell Water Spout
The canoe leg is 6 kms and concludes at Dwaarlindjirraap (Baden Powell Waterspout). Baden Powell Waterspout is a severe drop that forms a grade 4 rapid in high water and exposed rocky formations in low water. The area is clearly sign posted and to go past it you would need to take the canoe out of the water carry it 300 metres around the water fall past the car park and the sign that indicates Baden Powell. We meet you there at 3pm and return your party and all equipment back to Dwellingup. The canoe leg is suitable for novices and beginners and at low water some portage or at least getting out at the shallow spots is required.
If you go past Baden Powell Waterspout you will see Nanga Bridge. Nanga Bridge is a high single lane wooden traffic bridge with warnings about dangerous rapids ahead. DO NOT PROCEED PAST THIS POINT.
River Levels
The Murray River is reliant on natural rainfall patterns. Dwellingup Adventures will advise you if the water levels are unsuitable. We have a safety cut off point for high water. Typically, from December to April the river gets very low. While the river is essentially a series of long deep pools there are shallow sections with exposed logs that require you do pull the canoe over or through. The section from Island Pool to Baden Powell Waterspout tour still has a number of shallow sections that require pulling the canoe through but generally is available during the summer months.
Canoe Safety

The section from Yarragil to Baden Powell or Island Pool to Baden Powell is generally suitable for novices and beginners. Two roads run parallel to the river, River Road on river right (looking downstream) and Murray Valley Road, river left (looking downstream). River Road will lead you back to your vehicle should you need to walk out. If you are not at Baden Powell Waterspout at the designated pick-up time Dwellingup Adventures staff will travel along River Road to check your location. If you require an emergency phone there are two land lines in the park. Entry Ranger Station: if occupied rangers have a phone. Nanga Bush Camp: a phone box close to the manager's residence is available for emergency and local calls only at no cost. Both locations are on your map. Emergency services will typically try to get to you. If you can please secure all gear and canoes up from the river and note location. Dwellingup Adventures may be able to assist emergency staff so call 95381127 as well.